…tune in that live shot, would ya?
Our forecast for Christmas is… interesting…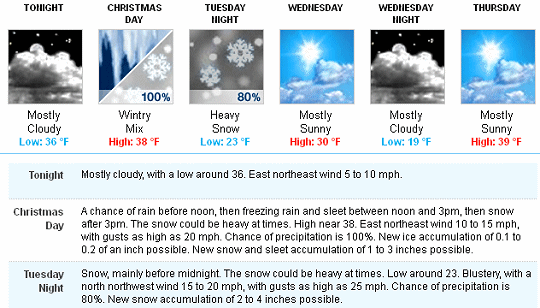 …this may or may not scupper just about all of our plans that don't involve "staying home and ripping wrapping paper off of stuff." We'll see.
To update an earlier post, this evening as I was changing litterboxes, Little E was hugely helpful in preventing a multiple cat escape (what is it with the rapid spread of this virulent strain of stupid among the feline population!?), and I rewarded him by letting him have Knuckles just a bit early. He'd been grousing about his Knuckles-less-ness all day, but his efforts in keeping the cats inside (and after dark, no less) was worthy of both praise and plushness. Just you wait, buddy. Just you wait.
Whatever you're celebrating tomorrow, even if it's just waking up, drawing breath, and finding that your name still isn't in the obits, celebrate it with someone you love, whether two-legged or four-legged. Being able to kick back and nap under a pile of warm cats sounds like a blissful Christmas to me – well, that and waking up to watch the new episode of Doctor Who.