Five years ago, a bunch of my buddies and I drove for hours – some for quite a few hours – to invade a retro arcade in Springfield, Missouri. It was quite a unique destination at the time – an old-school arcade, complete with pinball machines and nostalgic items all over the place, where you could get in for five bucks and play to your heart's content. It's not a bad business model: once inside, they have a concession stand to keep you there (and keep draining your wallet), and they're probably counting on their patrons only sticking around for an hour or two. Which, with the three-hour one-way drive time to Springfield, was a bit enforced in our case – we had real lives and crap to get back to.
If I had a buck for everyone I've ever heard in the arcade collecting hobby talking about how they're going to start their own version of 1984, I'd be able to start my own version of 1984. Fortunately, some local collectors have beaten me to it and opened up shop last weekend in Fayetteville, Arkansas, and it's gotta be said, the 40-minute drive (instead of a 3-hour tour, a 3-hour tour) may just make Arkadia Retrocade the happeist place on Earth for me and mine.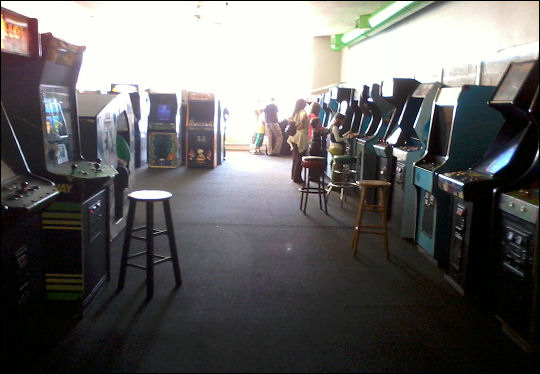 Arkadia has some serious stuff going for it that could see it become a serious "destination" contender for 1984's throne. For one thing, it has a nice, wide-open space – machines aren't too close together, it doesn't have to deal with the funky three-or-was-it-four-room compartmentalization of the space leased by 1984. It's roomy, and still has room for more machines as business picks up and affords them that luxury.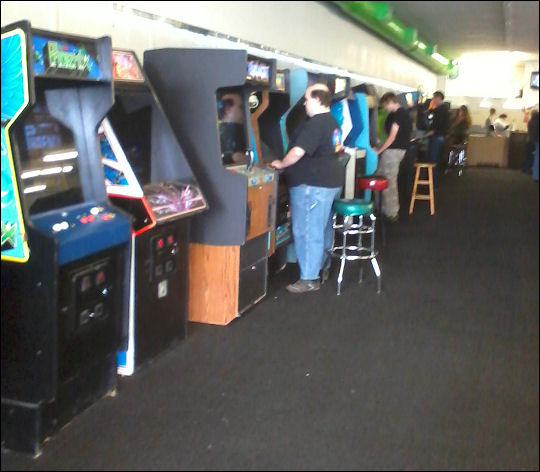 Pinballs are conspicuous by their absence. One neat thing that Arkadia does have is a raised level (and when I say "raised", I mean "raised by all of two inches") where there are cocktail table machines and an old-style console TV with an Atari 2600 hooked up (somebody's been to Classic Gaming Expo!), and a variety of cartridges at the ready.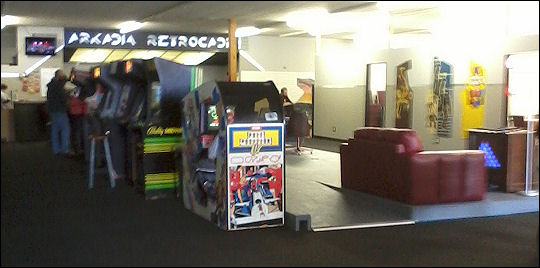 The 2600 is a neat touch, even though one of the joysticks has been touched too much. There's a pretty good representative cross-section of games available, and you can play as much as you like. The couch is nicely broken in and it will eat you alive – be prepared. 😆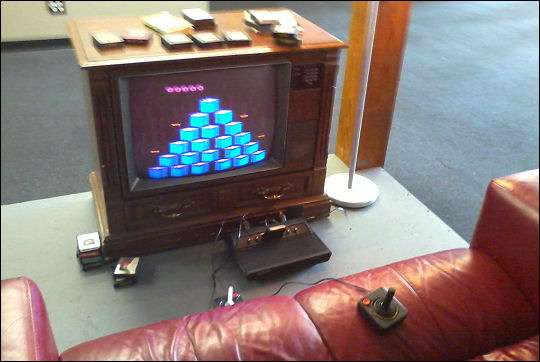 The arcade also has a nice representative sampling of '80s and '90s arcade gaming, from the obvious (Pac-Man, Donkey Kong, Mario Bros., Frogger, Centipede, Gauntlet, Dig Dug, Ms. Pac-Man, Tempest, Asteroids, Zaxxon, Galaga, etc.) to some favorite second-string games (Track & Field, Phoenix, Jungle King, Pengo, Mr. Do, Rampage, Toobin', Time Pilot). Plenty of late '80s/early '90s fighting games are on hand, so in a sense, Arkadia isn't as "time-locked" as 1984 is.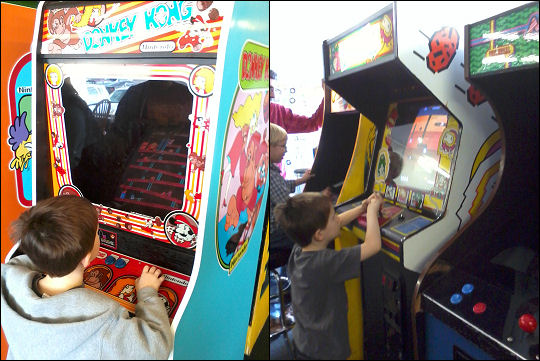 Little E tries his hand at the classics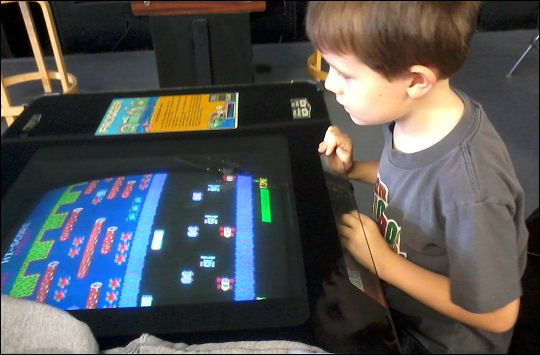 Like 1984, Arkadia has a concession bar where soft drinks and snacks can be ordered, and if you're anything like Little E, you can even try to piece Pac-Man back together while you're scarfing down M&Ms.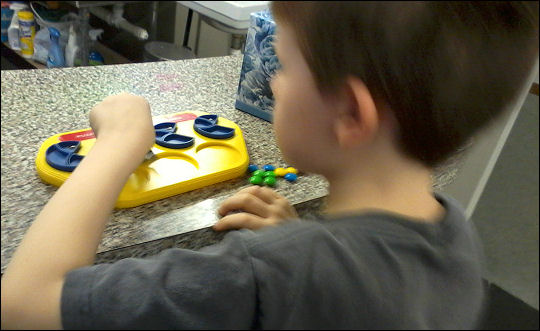 There are non-video games as well: the place has a decent air hockey table and a foosball table for those who want to give them a try.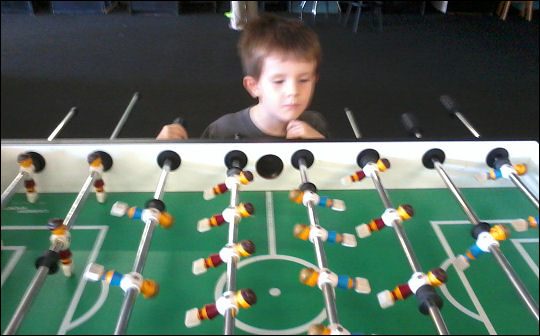 This being the second week in business, there's still little in the way of decoration or display items, but undoubtedly that will happen in time. There's a very small display set up near the entrance to the bathrooms, with a few classic video game ephemera set up for display.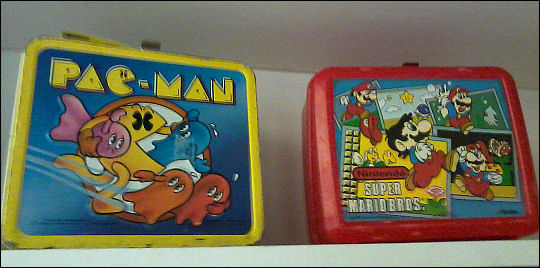 …from lunch boxes and a TI 99/4a computer to a boxed Atari 2600.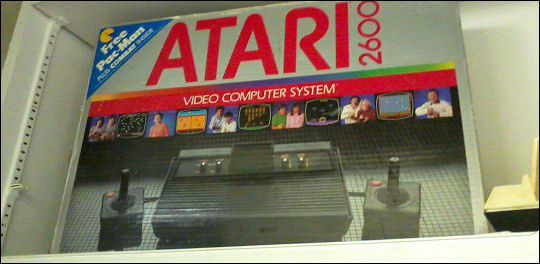 There will eventually be a merchandise area, and T-shirts are already available (smart idea). There's also a high score leaderboard, of which photos are taken and posted on Facebook (which seems to be Arkadia's only online presence so far), and scores are posted on Twitter as well. Arkadia really needs to expand its outreach considerably to stay on the map; planned events announced ahead of time would be a good idea. However, the fact that on its second Saturday in business, the whole place was booked for a birthday party, bodes well.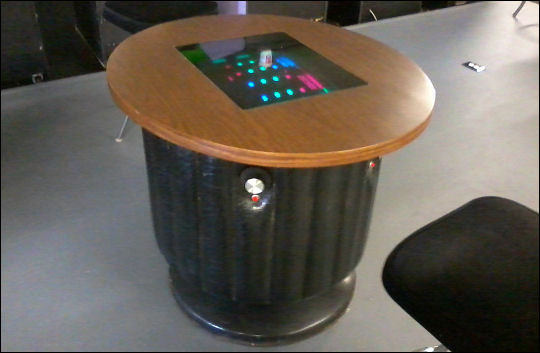 A real live vintage cocktail table game – I'm not even sure what this one was
In short, the place is still taking shape, and shows great promise. The guys running Arkadia obviously have the chops to keep their machines running despite a pounding that they likely haven't received in three decades (only Sinistar, Mr. Do and a couple of others were out of order); the real test from here out is their business sense and promotion. Obviously the basic business model shared between 1984 and Arkadia is sound; now the real goal is to keep Arkadia in the public eye.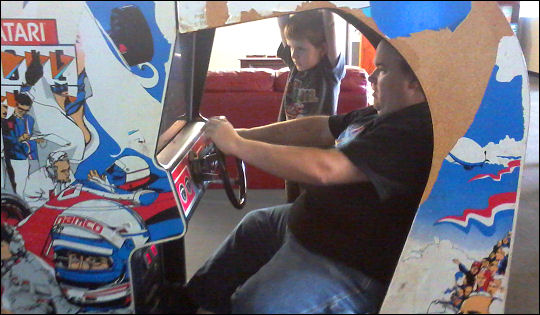 Like father, like son…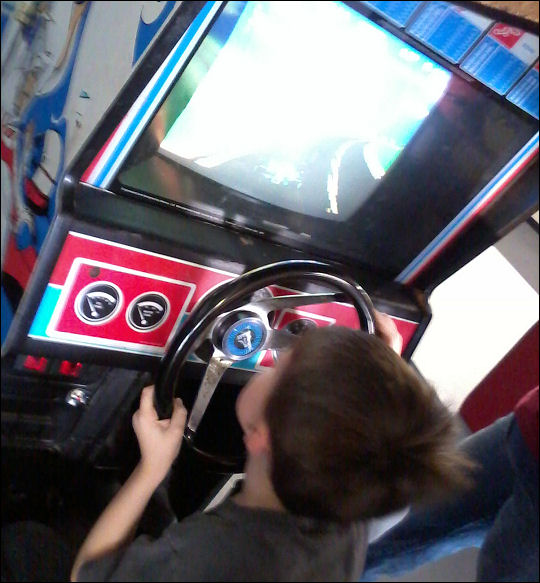 They can probably count on our repeat business – to my shock, we stayed five hours. In that time more than five dollars' worth of snacks were purchased, so our snack bar tab exceeded the five bucks to get in the door, but it can't be overlooked that we stretched our admission fee out to an average of a dollar per hour. My wife really got into Rampage (it must be noted that this was the first time all three of us played one video game as a family), and we each spent lots of time playing a great many machines, both video and otherwise. For a whole day trip worth of fun, that's not a bad deal. Which sums up my feelings about Arkadia overall – not a bad start at all.
Arkadia Retrocade
1478 N. College Ave., Fayetteville, AR
Open 2:30p-10:30p Monday through Friday, noon to midnight on Saturday, and noon to 6pm on Sunday.
Admission: $5, all machines set on free play.