What a long, strange couple of weekends it's been.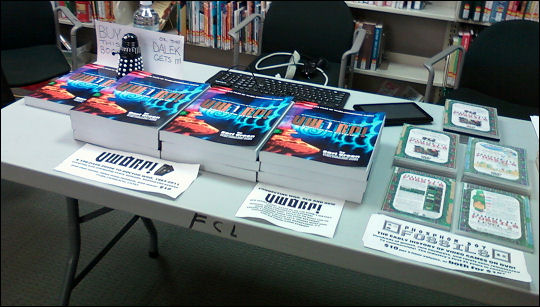 Last weekend I went to Darkon in Tulsa (a first-year horror-themed event put on by the folks behind Tulsa Trek Expo), and this weekend I was at another first-time event, ComiCon-Way in Conway, Arkansas. But more than just the latest stops on my tour of nearby conventions to promote VWORP!1, these were Little E's first conventions. Whereas previous conventions were "daddy is gone this weekend," now he wonders what we're going to do, and what we're going to see, next weekend.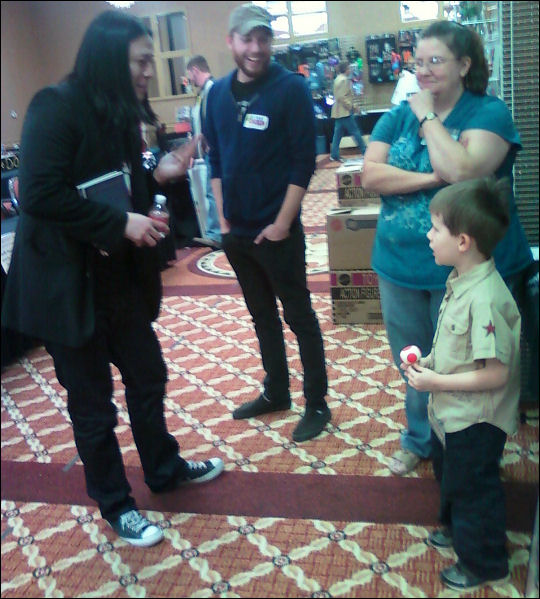 At Darkon in Tulsa (billed as a horror/supernatural con, but wound up being very general-geek-interest, which is fine by me), Little E kinda gate-crashed a Q&A presentation with Garrett Wang (Ensign Harry Kim of Star Trek: Voyager fame). Someone mentioned planets and the little guy was off to the races, naming off all the planets (and dwarf planets – Eris and Quaoar, you don't get out of this without a mention) he's learned about. Not only did Garrett graciously give Little E the floor, the con staff seized on the moment and practically made the boy their mascot – they had him take Garrett a cupcake on stage.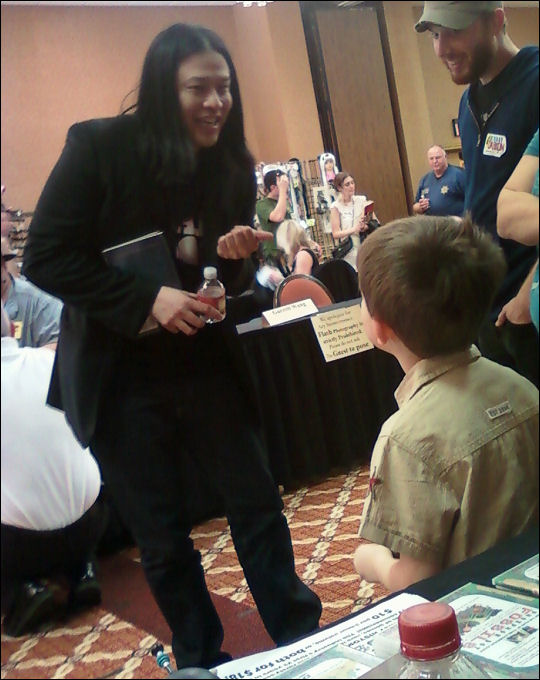 In response to our begging Little E to stop taking over the show, Garrett repsonded, "Don't shut him down! He might be a future astronaut!" Many of the former Star Trek cast members wind up doing outreach for NASA, so I loved that response. Given that the show didn't exactly burst at the seams with a huge crowd, it really wasn't like people weren't getting their weekend pass worth of the man because my kid was on the stage. (It's also worth mentioning that Garrett was doing an unscheduled Q&A to fill a slot originally scheduled for a Rick Worthy Q&A; Worthy couldn't attend due to work commitments.) When Garrett came back to the dealers' room, where he held down a table all weekend, Little E serenaded him with this song (which is what you see happening here). Garrett is one cool cat, and my son enjoyed interacting with him immensely despite never having seen a solitary frame of Voyager.
Most of the first day of Darkon (when I was flying solo) is covered here.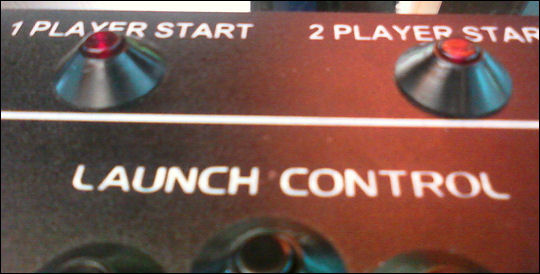 ComiCon-Way was a general-geek-fest from the beginning, with a comics emphasis; there were comics industry guests and dealers there, but make no mistake, this show had something for everybody.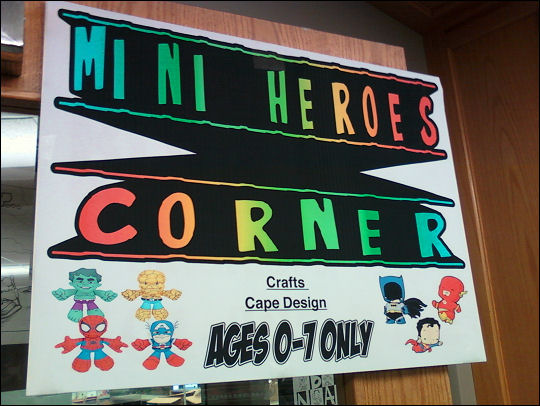 ComiCon-Way was held at the Faulkner County Library and drew a huge crowd by virtue of two words: free admission. Their smartest move after those two words was this: the mini-heroes' room, a place specifically for the kids to draw, color, make capes (Little E became JUPITER BOY in there!), get balloon swords… oh, yes, speaking of that: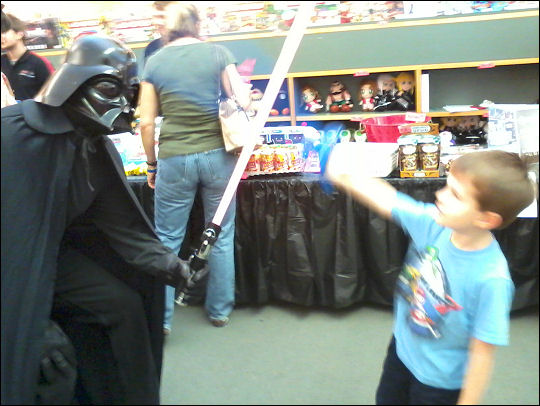 E vs. D.V.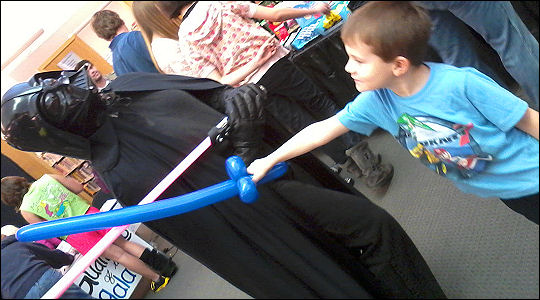 Dear Disney: the boy is available to star in Episode VII at a reasonable rate, just get in touch with me. His lightsaber work is impeccable.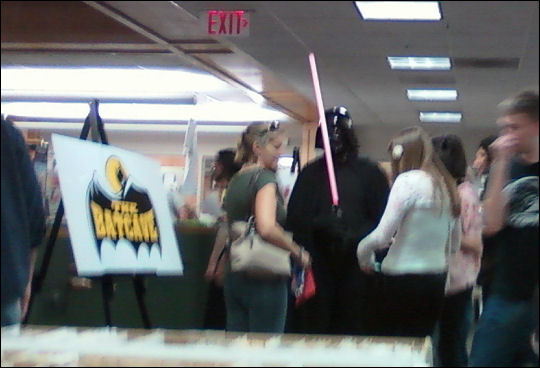 All the ladies love the Dark Side.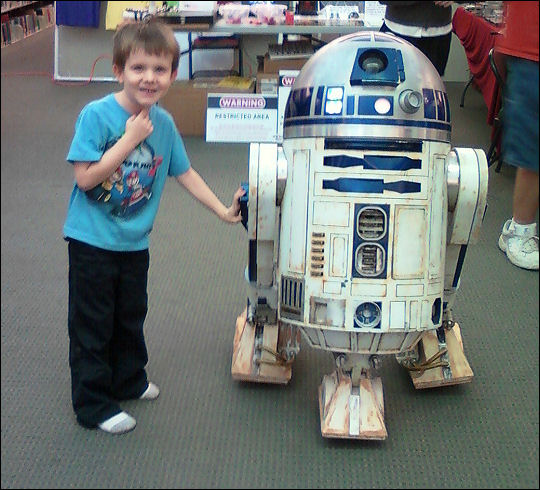 Little E also got to meet a real live working R2-D2 (courtesy of a droid builder in this area – I didn't know we had any around here!).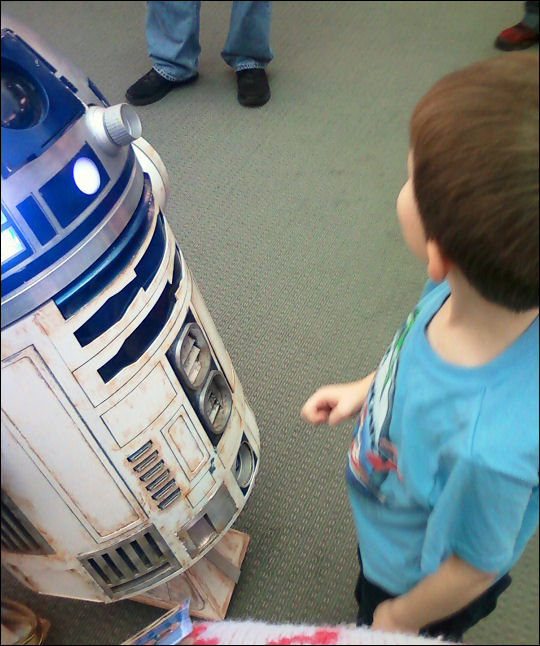 Little E also had the dubious honor of being told "don't touch!" by Artoo's owner. I apologize profusely; I just got a shrug and a laugh: "There's always one." No kidding? If I'd seen a full-size working, moving, beeping R2-D2 when I was his age, I would've hugged the thing. (I'm in my 40s and barely managed to resist the temptation as it was.)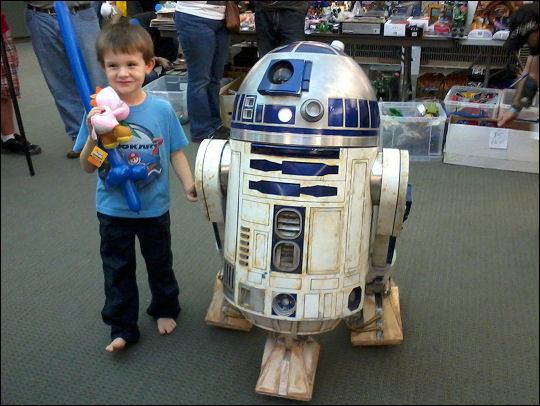 This being an Arkansas convention, and this being my kiddo, he was down to bare feet by the end of the day.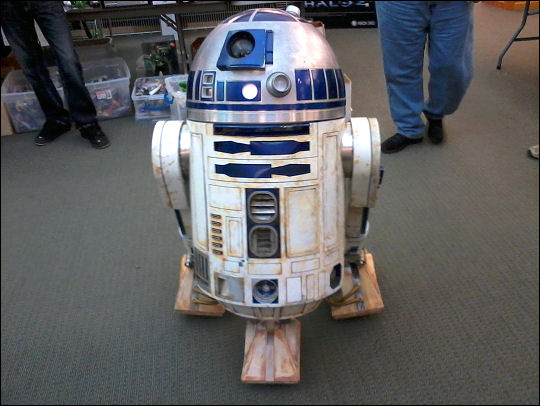 My one regret – I didn't get my own picture taken with Artoo. We would've been quite the pair, what with me wearing my now-traditional second-day-of-the-con seventh Doctor sweater.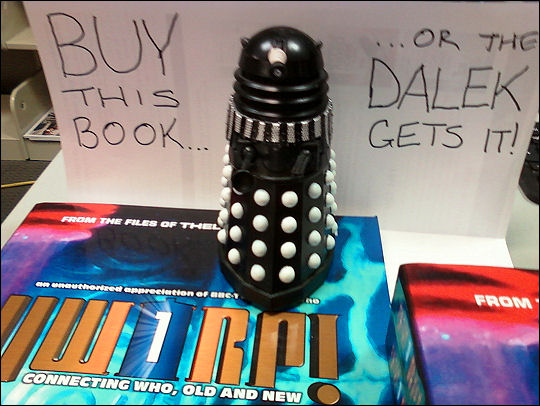 It turns out, this National-Lampoon-inspired sales pitch is a lousy one. Many people asked "Does it matter if the Dalek gets it?" The answer: "Doesn't matter one way or the other – you're here looking at the book, aren't you?"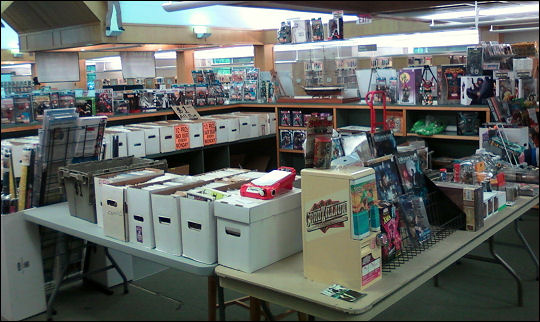 My across-the-aisle neighbor was Batcave Comics, a Conway institution in its own right. It did not hurt at all to inherit their foot traffic.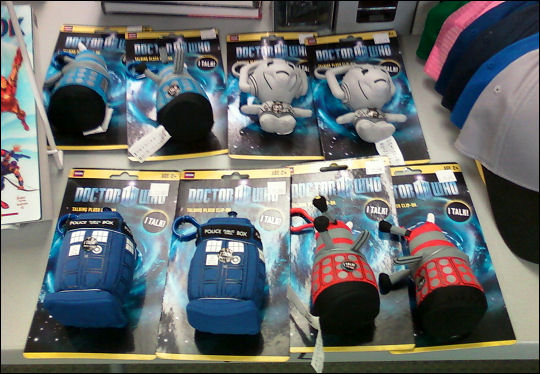 Batcave had these in stock – a great early warning system for me. No, Little E didn't drool over them, but every time someone pushed one of the sound chips in the plushies and I heard a Dalek or a TARDIS from over at my table, it was a great tip-off: ah, Doctor Who fan headed this way. Easy mark! (This photo was shot before the show opened on Saturday.)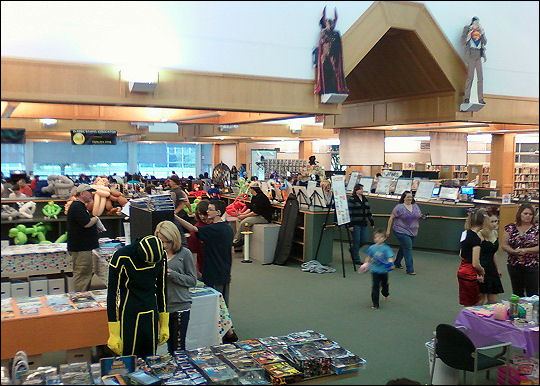 This is a better idea of how well-attended ComiCon-Way was, complete with barefoot Little E bolting across the show floor. Keep a close watch, man.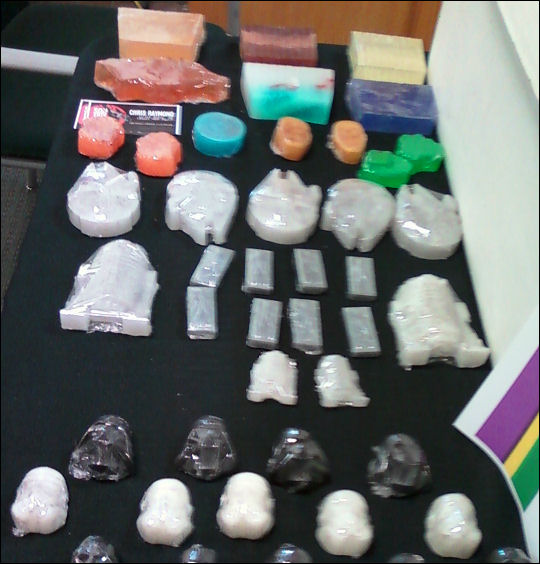 Our other neighbors were liquidating a large and varied personal comics collection, and had home-made soaps in a variety of geeky shapes.
Security was not an issue, since the 501st Crimson Nova Squad was patrolling the floor.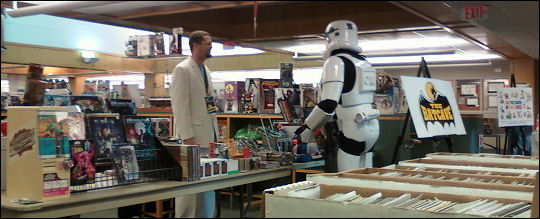 Do you take Republic Credits, Miami Vice guy?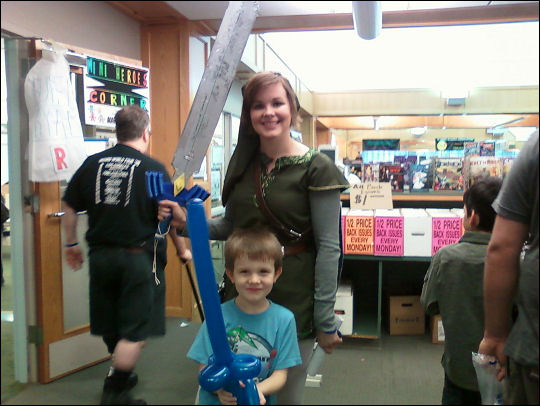 Little E is a huge Legend Of Zelda fan, and was even able to tell Link here was sporting weapons and a shield from Ocarina of Time. It's dangerous to go alone…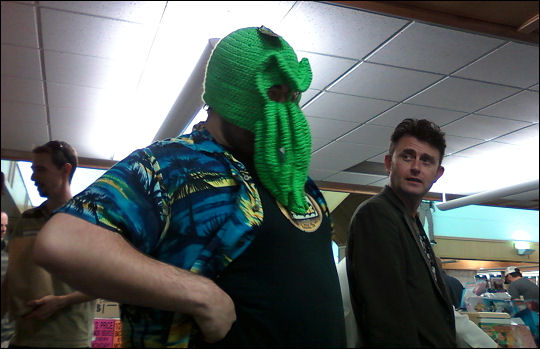 Writer/director Mike McCarthy (not a David Tennant cosplayer, as I'd initially mistaken him for; rather, he's behind the movie Cigarette Girl) faces the horror that is… Knithulu.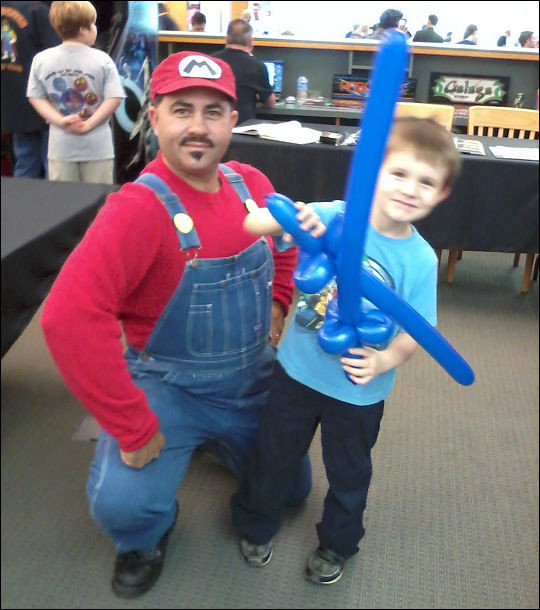 Now here's where this year's conventioneering comes full circle. Little E got to meet Mario (he's also a Mario fan; I think I've mentioned this in the past). But Mario here is also an arcade restoration expert, which brings us to just about the last thing I expected to find at ComiCon-Way: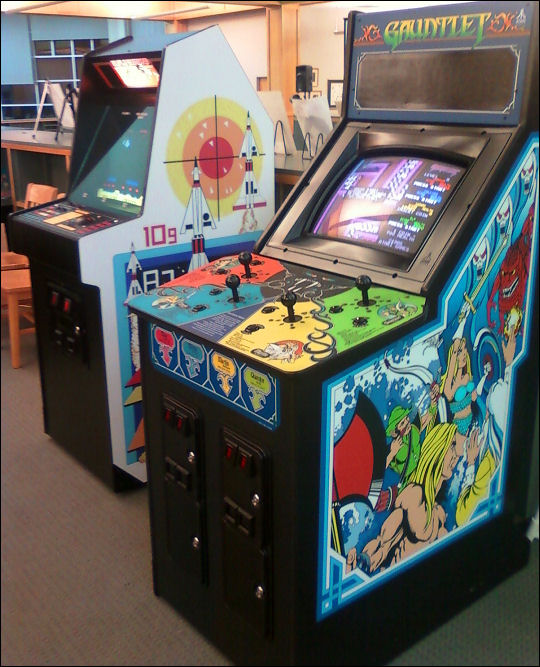 …fully restored working vintage arcade games on free play. Missile Command and Gauntlet are shown here; there were also upright Centipede and Star Wars machines on display.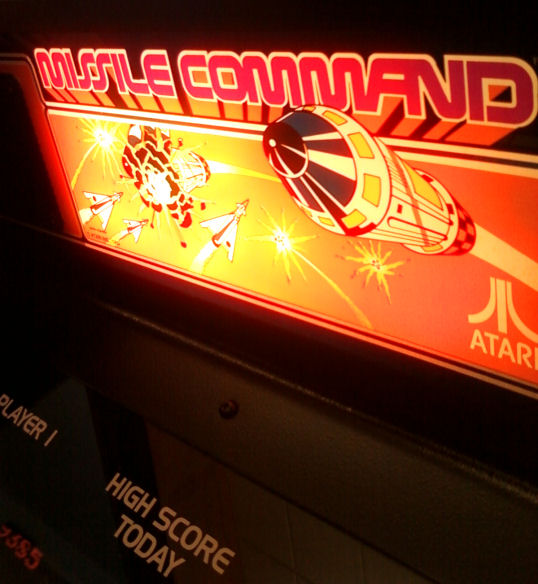 Their work was meticulous and jaw-dropping.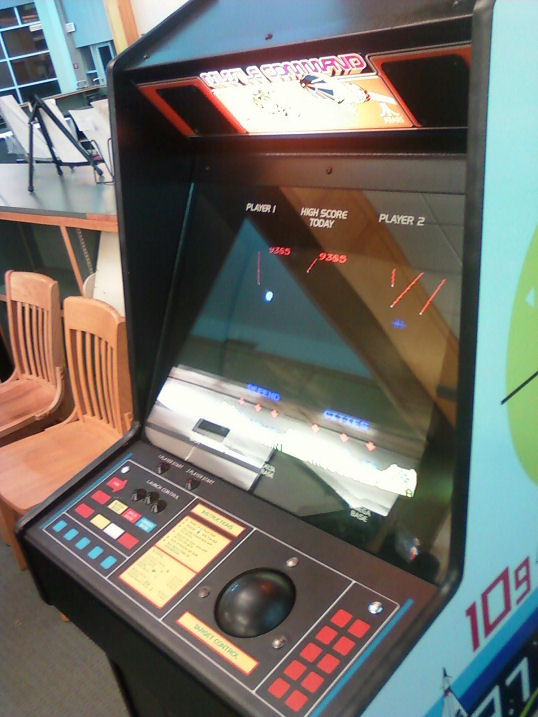 I told them the story of my solitary adventure in coin-op collecting, and how it ended, and was officially confirmed as "one of us!"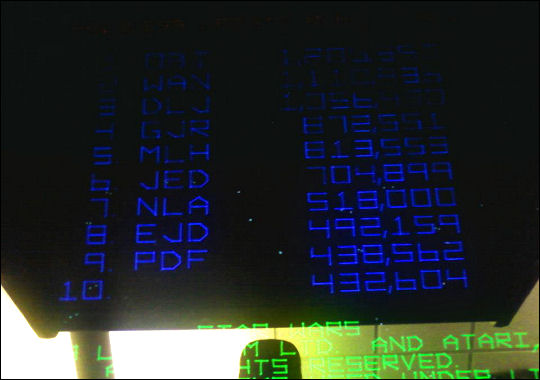 I couldn't resist playing the Star Wars machine. Little E was duly impressed with my Death-Star-destroying skills. I wonder if they got any photos of Artoo, stormtroopers, or Vader at this machine?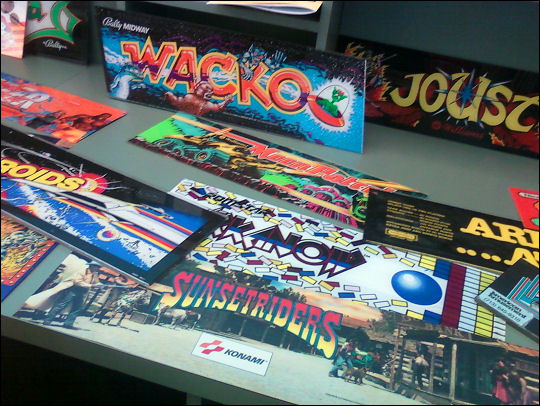 Marquees! Drool. Wacko is a funky slanted parallelogram shape due to the unique shape of the machine it was mounted to; you don't see many Wacko marquees in the wild.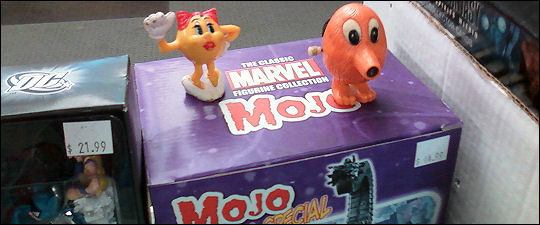 The Batcave caught the scent of classic gaming in the air and responded accordingly. (We caught the scent too – Little E added several new games to his GBA collection thanks to special discount coupons handed out by Game Point, a.k.a. the happiest place on Earth. He also got a pink Yoshi plushie; one of the games he got was Yoshi Topsy-Turvy.)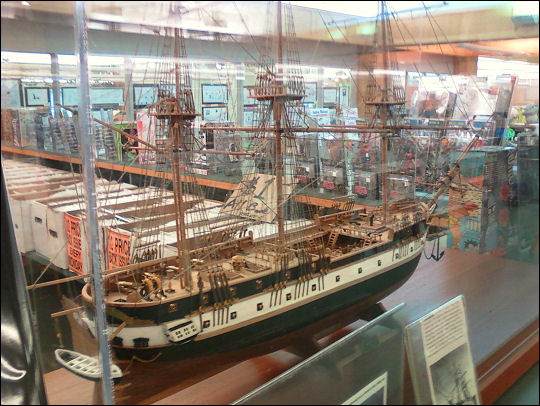 They also had this on display. Incredible detail. And yes, it was under glass.
A great time was had by all, and I almost ran out of books (which is a real feat, considering that I showed up hauling a bunch of books I originally ordered for Glitchcon in August).