I didn't accumulate much of a stash at OVGE this year, because I was worried about spending too much time away from my table where I hoped to be getting rid of the stash I brought to sell. And the past couple of years have really been a bit of a "break even" proposition, because I sold stuff and then turned around and bought stuff. With me out of work, that just wasn't in the cards this year. I did some horse trading and landed a copy of Super Mario Bros. Wii for Little E (he's been begging for it since seeing his cousin's copy of it), I got Brett Weiss' new book (which I've been glued to here lately, because it delves into systems and games that I've only bothered with in retrospect) and one of Deann Stone's hand-decorated Christmas ornaments (I'm gonna have Q*Bert cussing on my tree this year – top that!). And then there was one last item that was handed over to me for free.
Rob O'Hara dropped off his old, no-longer-used MP3 player, since I'd complained a few times in the past year or two about the increasingly unwieldly Hi-MD minidisc player that I haul around with me everywhere. He's stepped up to the iPod (long before OVGE, one suspects), and here I am, finally one foot in the 21st century. It's actually pretty neat.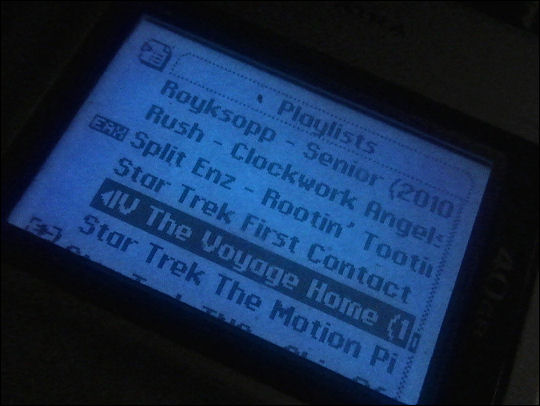 Advantages of the minidisc: well… all I can think of at this point is that the MD player was smaller than this MP3 player.
Points against the MD: proprietary software that converted stuff, and then left the converted files on the hard drive, meaning that I had two copies of a lot of stuff, taking up a heap of space. You had to fight the software to convert stuff at a bitrate greater than 96kbps (!!) – okay for podcasts, for but music? Really? Oh, and that proprietary software loved to just lock the hell up and crash. That would usually foul the TOC (table of contents) file and force you to wipe the disc and start from scratch. I've been listening to less music (or audio drama) in the car lately, because it was just too much of a pain in the butt to deal with.
The MP3 player on the other hand – and yes, it's a monster compared to an iPod – has a nifty menu window, can be loaded/managed from Winamp without having to bother with Creative Audio's equally bad proprietary software, and no convert time is necessary. You just tell it "dump this playlist to the player," and boom, it's on there. No more "start loading the minidisc player half an hour ahead of leaving the hour, to allow for conversion and crash time."
The only drawbacks so far to this player: it needs to be reset (by inserting a small object into the "reset button" hole) after being taken off of its charge cable, and even if I delete a playlist via Winamp, I'll still have to go in and delete the playlist manually from the device, even though none of the files that the playlist calls for are there. This is pretty minor stuff compared to a proprietary loading/conversion program that crashes with such regularity that you could make a drinking game out of it. (SonicStage just crashed again? Empty a shot glass, buddy. Pretty soon you won't care if it works or not.)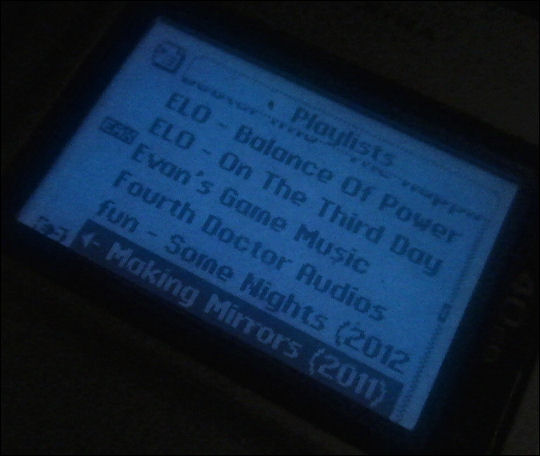 Maybe it's just because I haven't bothered to step into the iPod world myself – my wife has, but I've resisted the urge to spend money on something new when the MD player was still working (albeit crankily) – but I'm digging this first-decade-of-the-21st-century technology here. Laugh all you want at my massive MP3 player – I'll probably have my headphones on and won't be able to hear you.