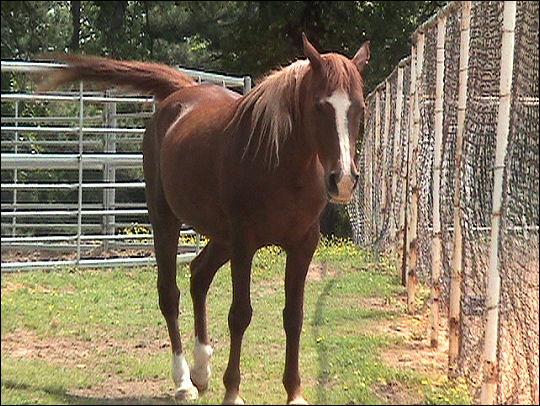 Five years ago today, I lost my big beautiful brown Arabian horse. It was, and still is, one of the worst things I've ever seen with these eyes in my entire life.
I still miss that big beautiful horse. She had health problems that forced us to give up on trying to breed her (which, for most folks, eliminates the only reason you'd own a horse of that age), and she wound up becoming a great big pet.
I remember her laying down and letting me sit next to her and lay my head on her belly on sunny days. Or just strolling around with her following me. She knew I was "her person." I only had her for seven years, but you'd swear we'd grown up together. I had never owned a horse before. And the way it all ended… I can never own a horse again. I love horses, but this just broke my heart.
I wish she could've stuck around long enough to spend time with Little E. I think they could've had a special bond too. I would've trusted her with him – she was always very gentle around me.
In a way, her replacement showed up the same day – we weren't even taking applications yet. And the boy loves that cat. There's some small consolation.
I still miss that big horse.