For the third time since the beginning of 2011, the Tail Waggin' Mail Wagon has unexpectedly brought home a new face on four legs. This one, though, must have a pretty sad story.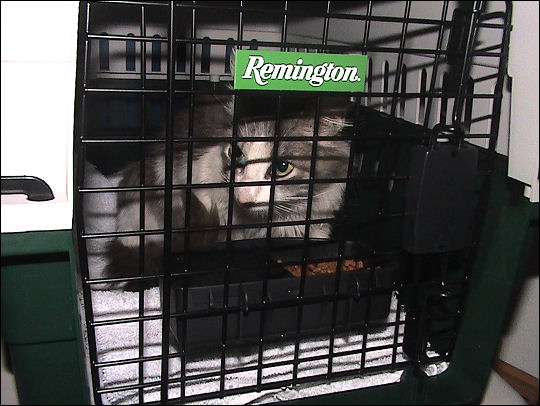 This is a female kitten who almost got herself run over today during my wife's mail route. She's skin and bones – you can feel every vertebra, every rib, every bite she's suffered being out on her own. She was pretty dehydrated. She's done nothing but sleep, occasionally coming up for air to eat for a bit, since she got here.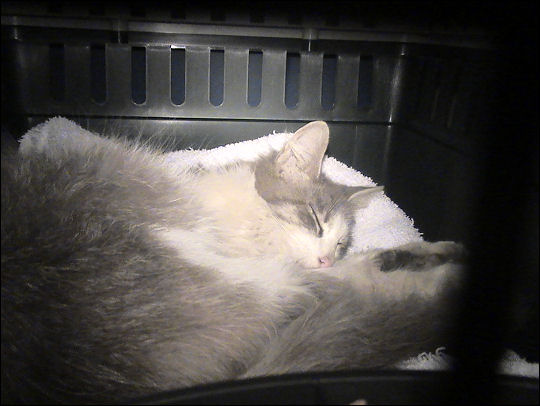 She looks like she might be some distant relative of Olivia (for right now, I've given her the name Maria – i.e. Olivia's maid in Twelfth Night – because everyone should have a name). More likely she's barely survived being part of a litter of kittens dumped somewhere in Crawford County. She has no basic cat socialization skills. She hisses at everyone. She's pretty skittish around people. She's had it rough.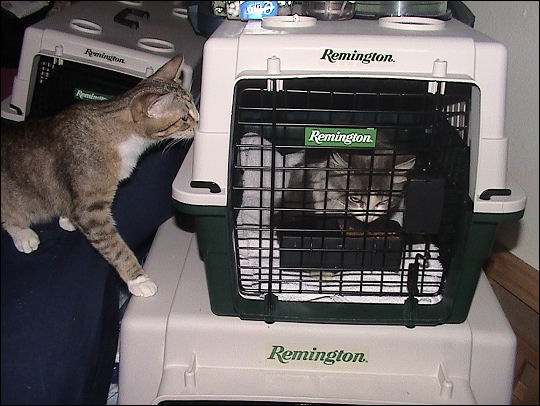 Portia seems especially defensive about another new kitten in the house, especially since Portia was a bad kitty today and pretty much destroyed a computer I was getting ready for an OVGE display piece. The more mature cats are giving her a wide berth – they know the drill by now. (This is cat #5. Out of those five, we have only one humane society cat. The rest are adopted strays.) The new kitty ought to feel pretty safe – her bunkmate in the kennel beneath her knows how to deal with the other cats.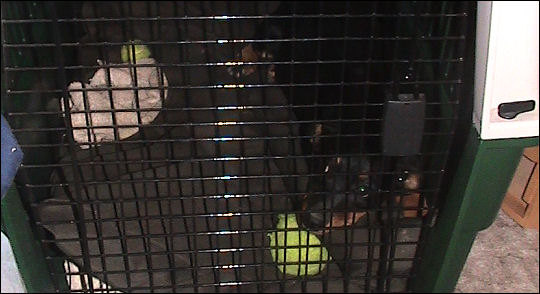 We really need to find a home for this one. Four cats plus two dogs is stretching things pretty thin; a fifth cat, especially one who potentially has special needs (she may not be suited to a multi-pet household), is potentially a back-breaker. Get in touch with me if you're local and would like to give this poor kid a peaceful forever home.