For Evan's second birthday, he and I went to the Tulsa Zoo. We would've gone someplace closer if there was someplace closer; I would've driven further if he'd been old enough to be disappointed by the place (more on that below). As it is, he had a blast, caught a little bit too much sun, daddy did a LOT of walking, and, oh, by the way, thank God for rent-a-wagons into which squirmy just-hours-away-from-two-year-olds can be secured and moved around.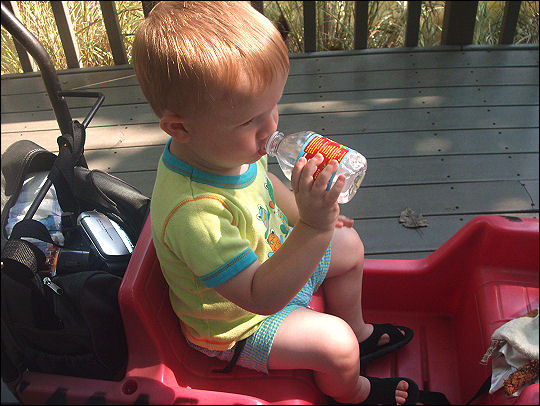 First order of business: monkey business. I barely caught this chimp in mid-swing.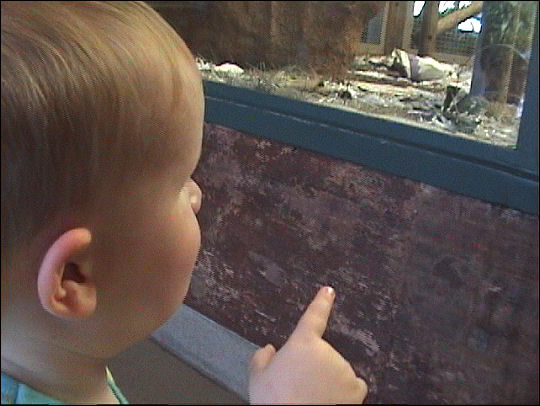 Look, dad! Monkeys!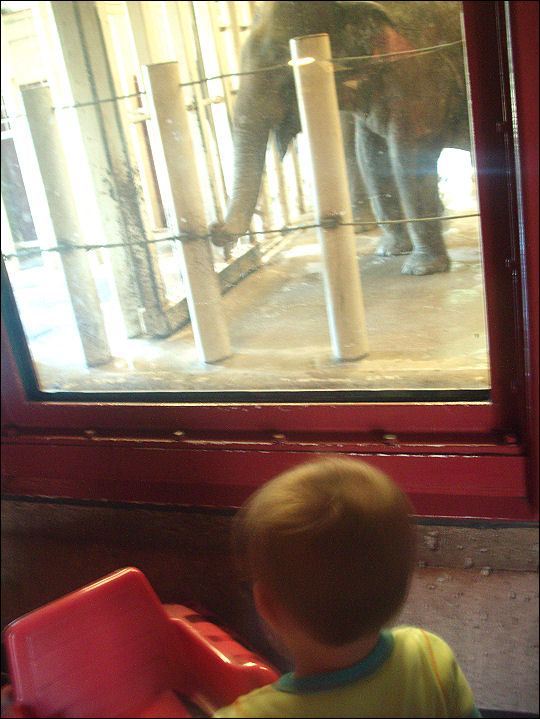 One of the earliest stops was the elephant environment. This was a little "personal significance" thing – my mother was a HUGE elephant fan. Some of the few things of hers that I have left are her elephant collection – little brass elephant statues/paperweights, bookends, and so on. She loved elephants. I thought she'd approve of her only grandson visiting some heffalumps. Evan knew what they were and seemed pretty excited; lucky for us, the elephants had the good sense to be inside out of the heat!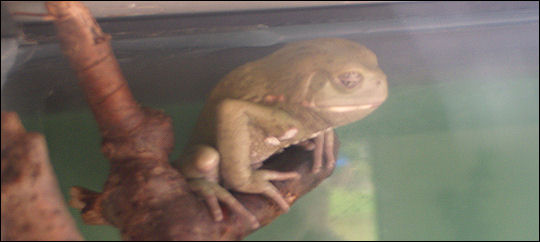 Evan, however, is a frog fan. One of his nicknames – especially when he wears the little froggy shirt that he wore to the zoo today – is Frogboy. He loves frogs. Today was one of the first times he's seen real frogs up close, like these waxy monkey tree frogs. He was suitably impressed. "A FROG!!!" he all-but-screamed.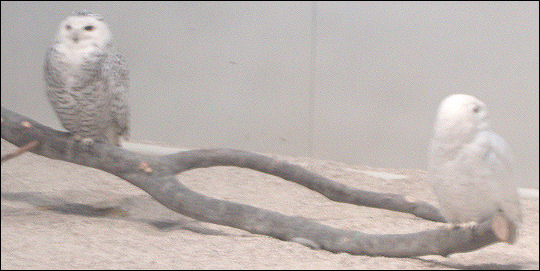 These snowy owls in the arctic exhibit didn't impress him nearly as much; he knew only that they were birds.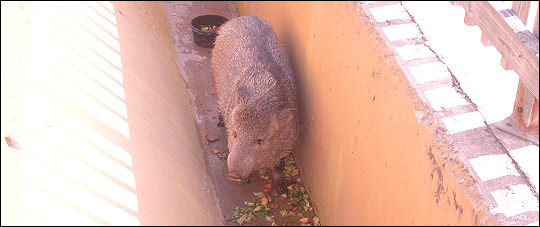 These peccaries, however, excited him tremendously. He practically screeched "PIGS! A PIG! OINK OINK!" at them. They continued to munch on their salads.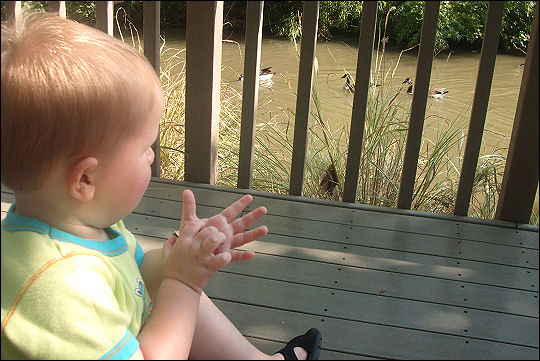 Evan is also a duck fan, so one of the most low-key exhibits – a duck pond with a bridge over it – fit the bill for him. (See what I did there?) Here he is clapping because the ducks were quacking after he announced "DUCKS! A DUCK! QUACK!" at top volume. I'll put it this way: Evan was so gleefully excited that you could probably pinpoint his location anywhere in the zoo by sound alone.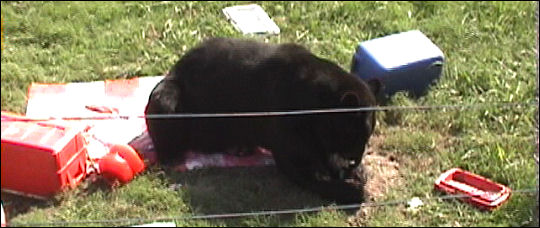 Evan was nonplussed by this king-sized black bear. I was nonplussed by the fake "picnic" scene they have set up in its environment. That is not part of a black bear's natural habitat, and it's a pretty lame joke to foist upon an animal living in captivity. I'm not really that much of a tree-hugger, but this irritated me. I joined Evan in being unimpressed.

What a croc. These guys were creepy to see close up. Evan knew what a crocodile was too.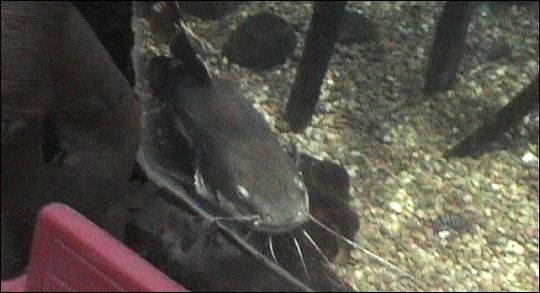 Also in the tropical exhibit: gigantic Amazon catfish-lookin' dudes. There's a bit of distance between the wagon and the fish here; it probably would've taken up the whole wagon. After eating my kid, of course. I decided not to chance it.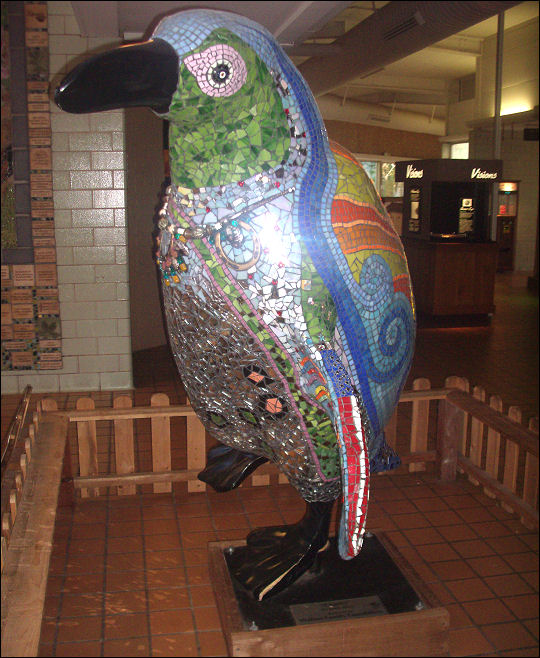 All hail the big talking bird! An all-star tribute to Mr. Flibble.


This, naturally, means that the penguins were next. Basically, two pretty forlorn looking penguins avoided the spectators for the most part; they'd shuffle out, find something to eat, and then waddle back into their little air-conditioned caves.


Man, I come to the zoo, and the only display they have is a bunch of stupid humans parading in front of me all the time? Awwwk!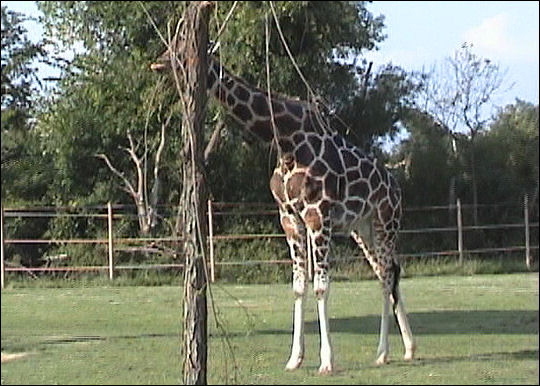 Hungry giraffe. More than any of the other animals, Evan really seemed to be impressed by the sheer scale of this one – distance or no, there was just no getting around how tall this guy was.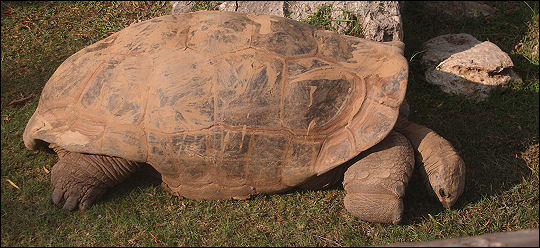 This Aldabra tortoise was as big as the little rent-a-wagon Evan was in. No, bigger. Easily bigger. Certainly heavier. Beware of heavy shelling.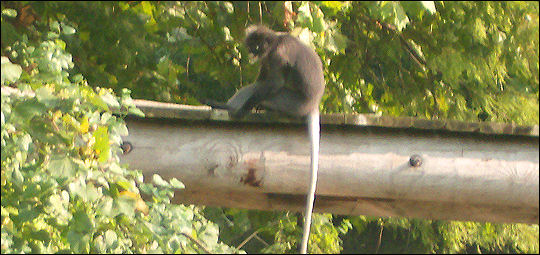 These little guys were nimble buggers – I was doing good to get this one blurry photo. They skittered up trees to dizzying heights faster than I could track them just by eyesight alone. It really made me wonder… how in the world do they catch them to stick them in the zoo?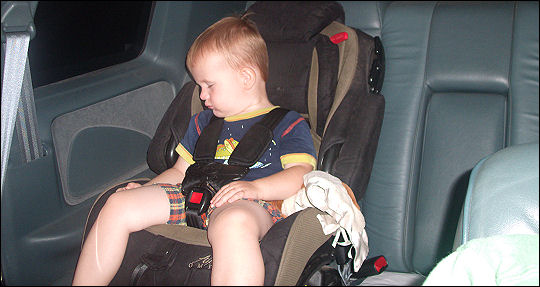 I took this picture exactly two years to the minute after Evan was born. As you can see, he was completely worn out by his big day at the zoo – identifying all those animals and then trying to talk to them in their own language is tough work.
I don't know if this'll be a memory that sticks with him for any length of time; the fact that he was telling mom about monkeys from the time he got home until he went to bed tells me that something stayed with him. Maybe just the monkeys.
The Tulsa Zoo is a neat place, but it has the look of a zoo that's in trouble – which really shouldn't be the case judging by the crowd that was there today. (I spent a grand total of $17 there – $7 on the rent-a-wagon alone – so they really shouldn't be hurting that bad, as I saw larger families, let's just say multiple-wagon families, there.) And yet there's the whiff of decline here and there: several exhibits are just plain empty. (The polar bear exhibit was one, but there at least there was an explanation – the zoo's long-time polar bear died of a kidney infection earlier this year.)
There's no central directory to tell you where to go. There's occasional signage which is a bit directionally-challenged – it's pretty vague. I know exploration is part of the whole idea, but families with little ones just want to see some critters – I heard quite a few complaining three and four year olds. (Evan was pretty low-key by comparison – he's a real trouper.) Of course, I also heard one kid, about eight or so by the look of things, asking where he can see some f@#$ing monkeys.
That leads me into a phenomenon that I ran into a couple of times (which isn't, to be fair, the zoo's fault at all): I had to warn other people's kids away from getting too close to exhibits a couple of times. One kid was pressing up against the mesh at the penguin exhibit – two feet away from a sign saying not to do precisely that – and I told him he might want to get down before he hurts himself (he'd had to climb a simulated ice floe to get there). His mom was about ten feet away talking to someone on her cell phone. Another time, I had to warn a kid away from sticking his hands into an open-air poison dart frog exhibit, which was festooned liberally with HUGE signs insisting that patrons refrain from doing exactly that; his dad shot me a big go-to-hell look for my trouble. Sorry, bucko, would you rather junior finds out first-hand why they're called poison dart frogs?
The woeful rent-a-wagon, which had one bum wheel (like that one shopping cart wheel that always spins aimlessly and occasionally brings the whole thing to a juddering halt) and was missing the buckle-up lap straps in the seat from which Evan could have faced me the whole time instead of me pushing him from behind the whole time.
That brings me to the Living Museum exhibit; it's a neat concept, visiting numerous environments in several buildings. Once you're in the Living Museum circuit, you're in it – it's kind of like the Muskogee Turnpike in miniature, and with more crocodiles. There's no getting off or skipping a building.
Except that there's one building that anyone with under-fives probably needs to skip: the cave environments building. This damn place was so darkly lit, and the "cave" hallways were so tight, that I was driving Evan's wagon over people. I passed at least two sets of parents who were wondering where one of their kids were, because one had wandered off an gotten lost in the dark – I don't envy them having to deal with that resulting trauma. This was the one time that Evan, who was pretty stoic and/or too excited to be scared by anything, started to come unglued; he started calling "Dad? Dad?" and I had to talk to him and tell him I was there, and wound up holding his hand from about a third of the way in until we were out of that building. There needs to be a "bypass" for that exhibit; the "caves" were wonderfully realistic, but trying to push a rent-a-wagon through a space that was too tight for even two-way foot traffic was incredibly annoying. I know those creatures require a dark environment, but surely they could do something like install red rope lights in the floor, like the aisles in a theater – red is the least "brilliant" end of the color spectrum (hence amateur astronomers using flashlights with red covers on them so they don't wreck their night-adapted vision), surely that would work.
We did get to see some bats, though. I didn't envision telling Evan that we were heading into bat country before he was even two.
I won't get into the difficulty involved in finding a men's bathroom with a changing table. I might break the language barrier.
There are some issues at the Tulsa Zoo that need resolving, but I'm sure it's just a matter of tight funding at the moment. But Evan turned two tonight on the drive home – he didn't care. He got to see monkeys and turtles and ducks (I think they were actually geese, but who's counting?) and struck up quite a conversation with a little howler monkey. These things made him happy. Being with him and watching him take all of this in and be so wowed by it made me happy.
Not a bad way to spend the day.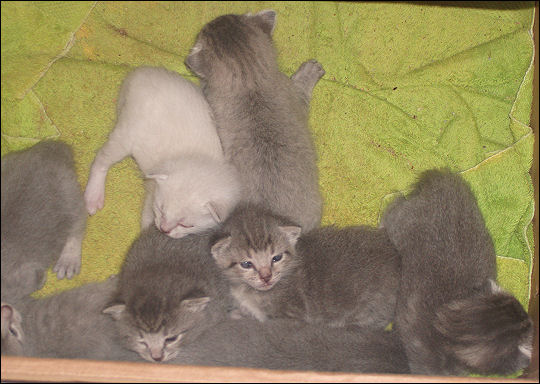 Meanwhile, back in our own little menagerie… "Where the heck did you guys go? You didn't come in here to play with us even once all day!"
(P.S. the oddly "fuzzy" photos are frame grabs from the video I shot. In case you're wondering.)