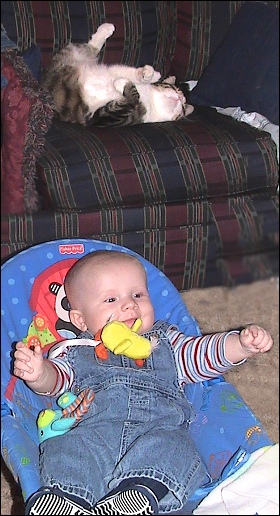 One note that I forgot to add from last night: I had to go somewhere around 8:30 or so, and right on cue, Oberon shot out the door. Again. I followed him as far as I could. Again. (Wearing shorts and sandals this time.) And he got away from me. Again.
I decided to go ahead and do what I needed to go do and just come home, at which point I'd keep an eye out for him. By the time I got home, he had already wandered back to the house and had been let in. Which, you know, is good, but if he thinks we're just going to concede the point and let him be an indoor/outdoor cat – in an outdoor area where we recently had a dead cat turn up in our yard (thanks, Xena – no, she didn't kill it herself, but she dragged it into the yard from wherever she found it) – he really needs to readjust the thinking in that one little fuzzy brain cell of his. In the meantime, though, I'm happy to see him more enthusiastically making his way home after getting out. He wouldn't have wanted to be in that storm last night.
So here's a picture of Evan and his strangely adventurous cat yet again, taken this morning after yet another adventure into the wild. But at lest Obi's kinda like me – he knows there's only one place he can go to see that little face, so he keeps coming back.
Looks like Atlanta got hammered worse than anybody realized at first, so again, if any of my regular readers in Atlanta or any of the other storm-tossed areas of Georgia/SC can check in, let us know if you're OK. If I don't hear from you soon, I'm sending Obi out as the search party. And then you're really in trouble.