I'll show you around my TARDIS in a moment. But first, a look at the print ad running for GreenhouseFX.tv in the July issue of Entertainment Fort Smith: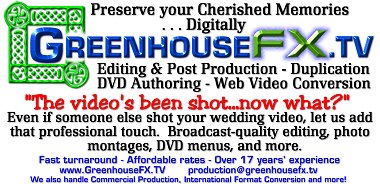 (The only difference is that the one in the magazine has my phone number in it.) I'm trying to make a virtue of the fact that, once I've got a baby boy running around, I won't be in a position to go shooting very often (on the site, from day one, it's said that I do shooting by special arrangement only). I'm hoping I'll get some decent business off of this ad; as I've mentioned, it runs in the bridal issue, so if that doesn't work, I clearly need to figure something else out, like renting my organs out for medical experiments. (While I'm still using them.)
And now, a fond farewell to an old friend, who, after serving faithfully for 20 years, is going to a better place. Well, if "out with the trash on Monday" is considered a better place: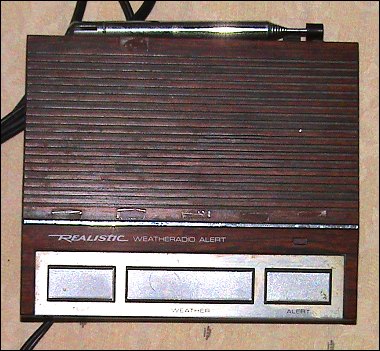 Never again will your sickly siren wail reverberate through the walls of my home, for now the sound of impending death from above is the sound of a power pellet in Coleco tabletop Pac-Man. Goodbye, old friend.
And now, click here to peer into the TARDIS. You might remember a December entry where I showed off two different TARDIS playsets that arrived on the same day (!). That was just over six months ago, and I only today cracked open the new series TARDIS to put it together. To say this thing is massive is an understatement.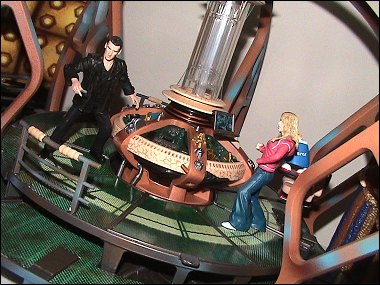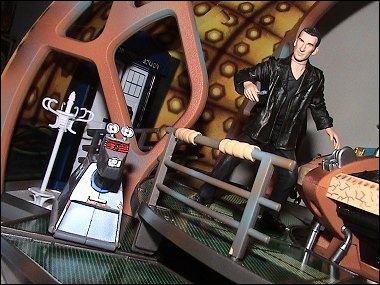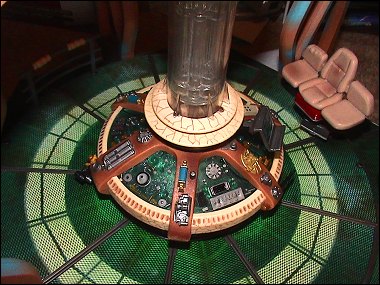 Just the console alone is a thing of beauty. I'm gonna take it on trust that they shipped one of these sets to Bryan Hitch gratis.

All lit up.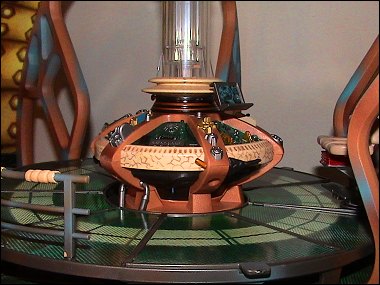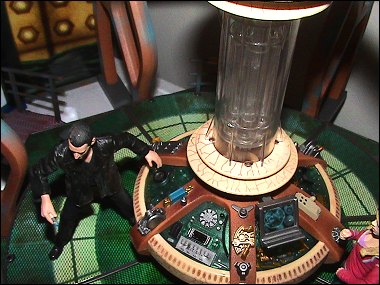 The little "monitor" piece can be rotated around the entire console. When in "flight" mode, the translucent pieces inside the tower come together and apart. (Dear Character Options: please do a McGann version of this. Please.)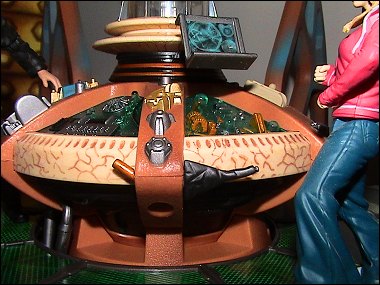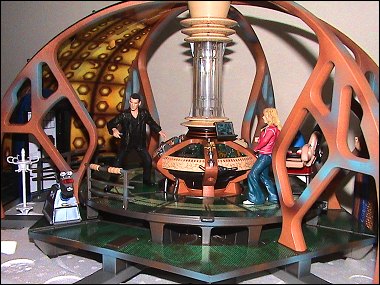 The triple-tiered "floor" of the TARDIS is very flimsy – where you build this thing is pretty much where it's going to stay. I built it on a huge slab of thick styrofoam that our new microwave was packed with, so I can feel a little more comfortable about moving it around.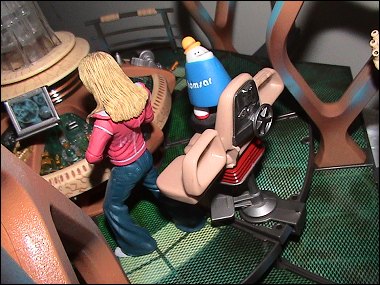 Just when you thought the TARDIS crew couldn't get any stranger…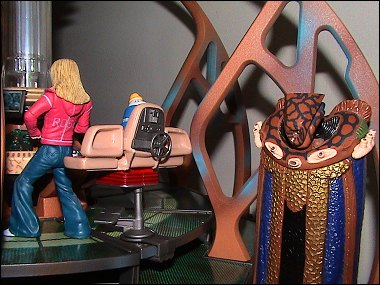 …think again.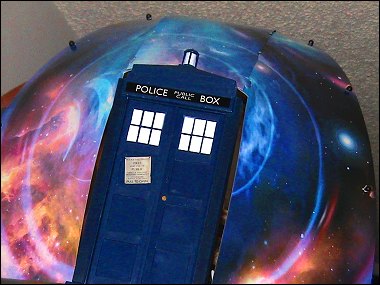 The flipside of the cardboard pizza-wedge of "walls" – a very, very cool design. Sadly, my TARDIS arrived with a lopsided "Police Telephone, Free For Use Of Public, etc. etc." panel on the door, so I'm going to have to reproduce and replace that little detail.